Photo & Video Gallery
---
RUSI 2018 AGM Presentation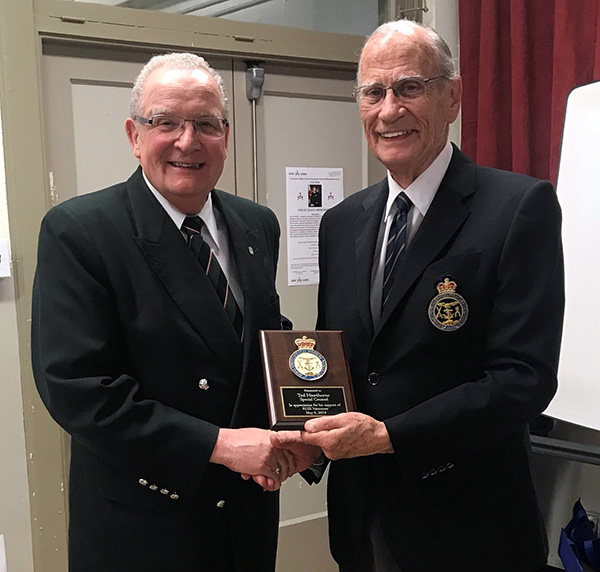 At the 2018 RUSI Vancouver Society Annual General Meeting on Wednesday, May 9, the Society's lawyer, Ted Hawthorne, was presented with a RUSI badge plaque by President, Cam Cathcart. The inscription reads: "Presented to Ted Hawthorne, Special Counsel, in appreciation for his support of RUSI Vancouver.
The President noted that Mr. Hawthorne, who is also Honorary Colonel of the BC Regiment (DCO), has been generous in his support of the Royal United Services Institute Vancouver for many years, and Vancouver's military community and not for profit sector.
---
Lighting of the Burrard Bridge Memorial Braziers
In Honour of Our Canadian Veterans
Originally installed in 1932, the lighted braziers on each end of Vancouver's Burrard Street Bridge memorialize British Columbians who served in the First World War. The four lamps were originally designed to replicate the flickering charcoal brazier fires lit by soldiers in the field to stay warm.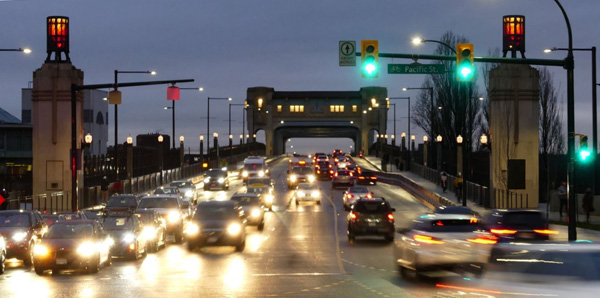 Photo: Lazia Kretzel - NEWS 1130
Repairs to the braziers have been performed as part of the recent $35-million Burrard Street Bridge upgrade project, which restored and technically upgraded the fixtures with LED lighting systems.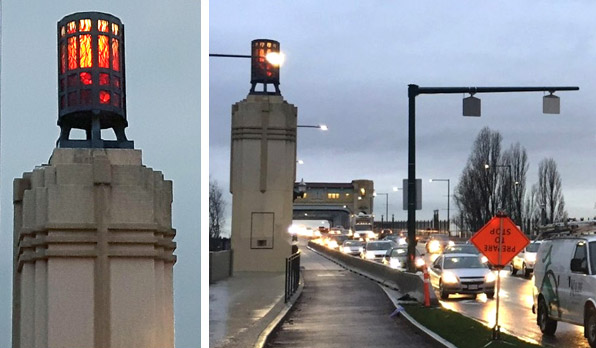 Each one-storey-high lamp sits on top of a four-storey-high concrete pillar.
RUSI President, Cam Cathcart, led the project to have the braziers on the Burrard Street Bridge restored.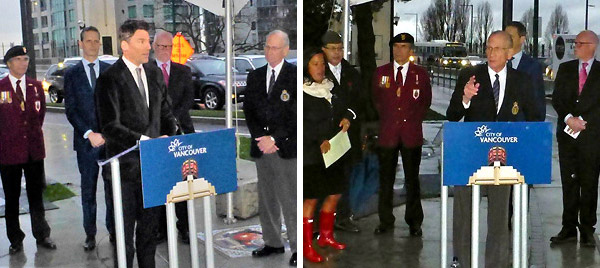 (Left) Mayor Gregor Robertson speaks to the significance of the four Memorial Braziers and officially announces the lighting of the braziers. (Right) RUSI President Cam Cathcart acknowledges support of the City of Vancouver, assisted by Veterans Affairs Canada, on completion of the project.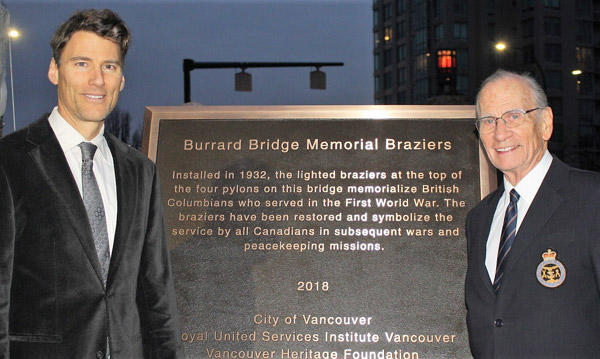 Vancouver Mayor Gregor Robertson and RUSI President Cam Cathcart following the unveiling of the commemorative plaque.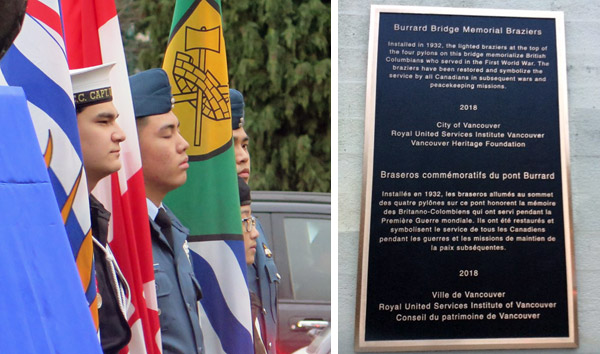 (Left) Four members of the Vancouver Flag Party provided a ceremonial guard for the lighting and unveiling event. (Right) The official plaque commemorating the lighting of the Memorial Braziers is seen attached to the northeast pylon of the Burrard Bridge.
---
World War II Veteran Celebrates 107th Birthday

Lieutenant (Ret'd) Margaret Neily, a Canadian Nursing Officer in Italy during World War Two, celebrated her 107th birthday at her home in White Rock in February of this year. Margaret is seen here happily celebrating her big day with two serving members of 12 (Vancouver) Field Ambulance, Captain Murray Maouke (l) and Master Corporal Siqu Sun (r). They had dropped by to present Margaret with a bouquet from today's generation of Canada's medical soldiers. Asked at the party if she would prefer to have tea or sherry, Margaret replied "Sherry, of course"! Lieutenant Margaret Neily was on duty in a tented, battlefield operating theatre during one stage of the critical fight to capture Monte Casino during the Italian Campaign, 74 years ago.